How to Keep Commercial Drivers Safe, Secure, and Successful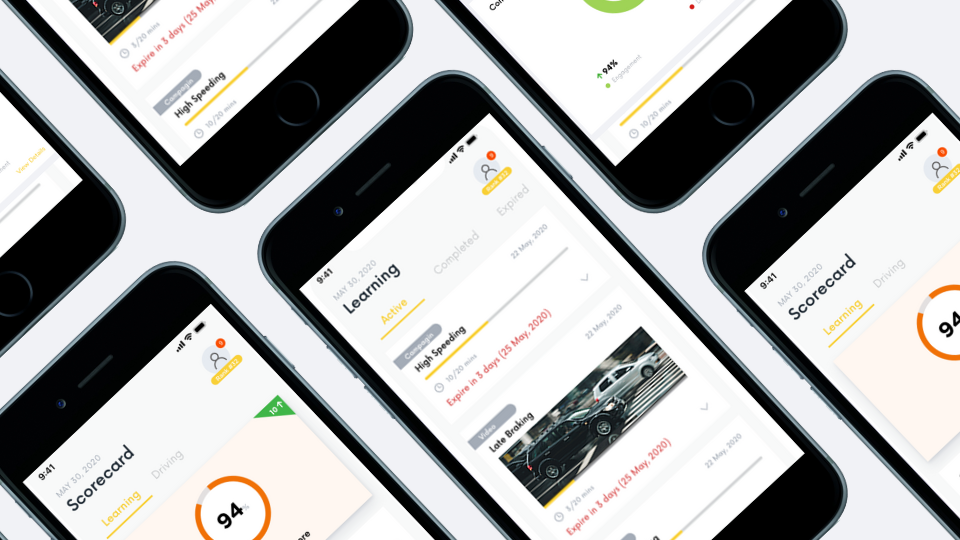 More so than ever online shopping is high in demand; due to the restrictions of lockdowns throughout the UK, most of us have turned to the convenience and safety of doing our shopping online. This dramatic rise in home deliveries means the roads are busier with commercial vehicles. There is not a day that goes by that I do not see a DHL, Post Office, or Hermes van pass by my window. Operations also rely on commercial vehicles to ensure their businesses run smoothly. So, how can we make the roads and those who use them safer?
No matter what type of fleet you manage, no matter the shape or size, keeping our drivers and other road users safe is paramount. But, with increasing demand on operations, higher expectations, and stricter time restrictions, it becomes more challenging to teach safer, smarter, and more economical driving styles. So, we need to investigate the methods of monitoring, educating, and installing consistent positive interventions.
It all starts with the data provided to be able to monitor individuals driving habits. Historically, this data supplied by various TSP's or risk management services have been complicated with endless sheets of excel, so the fleet manager must spend a lot of time delving through this complex data. The solution is to be provided with easy to understand, streamlined, relevant KPI's, all communicated in real-time so that the manager can monitor the fleet's performance accurately. This solution will ultimately save time and money. It can track and share individuals driving styles, reporting near misses, driving scores, engagement records, and breaking down said driver's habits. This fresh alternative is like having a digital fleet manager supporting the actual fleet manager, making their professional life a lot easier.
Next, we look at how to implement a sustainable method to teach safer driving behaviours. Now the fleet manager has been equipped with specific KPI's and real-time tracking; they can identify which drivers are engaged, improving, and climbing their way up their respective leader board, 'The Wall of Legends'. But to make this happen, we must implement an effective way to educate a fleet. Up until now, most fleets pay a fortune for traditional classroom-based driver safety courses, and these can be short courses, of 1–2-day programmes, with a room full of their drivers. This method has proven ineffective as individuals easily forget what they have been taught shortly after the course. It is also incredibly challenging to engage a room full of individuals with a generic training course, and we would prefer targeted and personalised content, right? Precisely that, to achieve great results, we must look at teaching materials, the driver content, and the techniques to engage individuals.
Effective driver training is made up of different interactive content and emotive, phycology techniques. So, what does this look like? Studies have shown that when a person is emotionally connected, entertained and competitive, they retain what they have learnt. That is why we cultivate gamification-themed content so that individuals are engaged, entertained, and inspired to progress. This comes in the form of short videos, quizzes, support messages and remedial campaigns. The driver's attention has been captivated, and they receive their own driving, engagement, and progression scores from taking ownership of their development. But this digital content also provides drivers with a consistent way to continue their learning journey when convenient for them, because it is accessible via any web-enabled device. It is like having a driving coach in the palm of their hand. This expert content comes as a standard and even has the option for organisations to add their own training content into the programmes.
This new revelation of digitally monitoring and educating drivers has proved to be a massive success with big brands. They improve their driver safety, reduce fleet running costs and comply with their duty of care responsibilities. Krispy Kreme previously had challenges with inconsistent communication and because they value the safety and well-being of their drivers, they came to Praiso for the solution.
Ben Povey, National Transport Manager, explains, "Looking at our average score across the fleet today, it's the highest score we've ever achieved. It makes me feel proud and it's great knowing that our fleet of drivers are delivering smiles to our customers, whilst driving safely."
Ben continued to say, "Praiso has become part of the Krispy Kreme culture, it is simple and straight forward to use compared with the previous system we used. It saves a lot of time training new team members and for the user, it just makes information a lot easier to find. Our drivers are now fully aware of their performance and position on the Wall of Legends, whereas before there was sometimes a delay in getting that information to the front line."
Are you ready to monitor, educate and implement sustainable change in your fleet of drivers? Want to make your life simpler with a lessened workload and remove the amounts of paperwork on your desk? Praiso is the name to turn to, with affordable and accessible plans for any sized fleet. We can elevate your commitment to driver safety, risk management whilst reducing operational costs. Take a demo to discover this revolutionary technology, which transforms any raw telematics data to provide an all-inclusive service, taking care of everything such as software, updates, hosting, maintenance, and customer support. Start your journey into the future of driver safety and join the new ecosystem today.
Note to Editors
About Praiso
Designed for vehicle fleets, insurers, vehicle leasing companies, telematics service providers and OEMs, Praiso's revolutionary software platform transforms raw telematics data into proactive and targeted coaching messages, support programmes and remedial campaigns, all delivered online direct to the driver.  
For more information visit https://praiso.com/