Investment, New Shareholders and Rebrand of Corporate Identity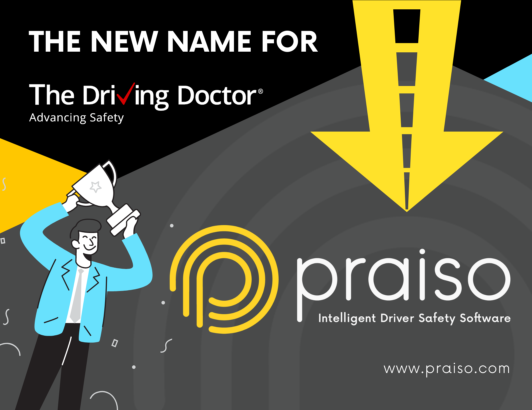 Praiso becomes the new name for The Driving Doctor after securing £500k of private equity funding.
The Driving Doctor has secured a private equity investment of £500k to supercharge its already impressive progress of its unique driver behaviour coaching app. Alongside the new investment comes a new brand name, Praiso, to better reflect the market proposition and the company's values.
The investment comes from an impressive group of successful IT and business professionals in the automotive space. Praiso's Chairman, Laurence Vaughan, who also holds board positions at Sytner PLC and Aston Barclay Vehicle Remarketing and serves as Chairman at Catapult Ventures and SuperBike Factory comments, "I am delighted the unique proposition and potential of Praiso to provide A.I-derived digital driver education has been recognised, not only with this new investment but by attracting investors with a serious pedigree in the successful development of high growth SaaS businesses in the automotive market. We are really looking forward to developing our proposition further and providing our customers with market-leading, disruptive solutions and services."
New shareholders and Board Members in the business include several people responsible for delivering market-leading SaaS-based technology in fleet compliance, repair, and maintenance sectors. Nick Walls joins as a Non-Executive Director, bringing his knowledge and successful track record for the development and leadership of high growth SaaS businesses in the automotive space.
Jason Fitzgerald joins as Commercial Director, responsible for the growth of all commercial activities of the business. Jason comes with a long and successful history of new business development, with over 20 years of experience building and leading fleet software sales teams to record growth.
Dominique Marie joins as Development Director. With over 20 years as a technology lead, Dominique's expertise in the design and development of market-leading SaaS platforms in the automotive space is unrivalled. He has previously held senior software development leadership positions in both the telematics sector and fleet/workshop management software, building large scale SaaS solutions hosting hundreds of thousands of users.
The rebranding of The Driving Doctor into an accessible and modern approach was vital for the new company owners, as Commercial Director, Jason Fitzgerald explains, "Our new and enhanced branding, website and customer apps are focused on the attitudinal and emotional dimensions of safe driving. Providing our consumers with state-of-the-art technologies and real-time behavioural improvement programmes showcases the effectiveness of the product, both from a safety and cost-saving viewpoint."
Everything from the name to the launch and re-brand of Praiso's corporate identity has been carefully considered. Jason comments, "When building the ecosystem for safe driving, Praiso's name was the very essence of our thinking. You see, Praiso isn't just a name to us or our customers; Praiso's name is an anagram derived from high praise, AI and software. Our intention is that Praiso will become a pillar of safety, sustainability and compliance across the entire automotive industry."
The innovative software platform has already won accolades, such as the Brake Fleet Safety award consecutively in 2018 and 2019. Praiso's customers also report reductions in accident rates and speeding offences, a significant decrease in fuel usage and lower insurance premiums.
A case study with Gary Camber, Senior Manager from Cass (a cable and splicing company), revealed the impressive ROI they saw in the very first year of implementing Praiso:
"We've saved £75k in reduced insurance premiums. Combine that with the £64k in fuel cost, that's a massive £139K overall in the first year. We've also reduced the speeding fines through receiving less speeding tickets by a massive 65% which is fantastic. The guys are learning to drive within the legal limit of the roads; everybody is learning from this programme. In the first year, we've reduced our accident rate by 30%."
This enhanced proposition is set to revolutionise the world of driver safety, as Praiso's SaaS delivery model operates across all platforms, including desktop computers and mobile devices. Ensuring that drivers can easily switch between devices to complete feedback and interactive training. A true breakthrough for what once was an outdated, time-consuming, and costly way to train fleets, whilst complying with health and safety regulations.
Note to Editors
About Praiso
Designed for vehicle fleets, insurers, vehicle leasing companies, telematics service providers and OEMs, Praiso's revolutionary software platform transforms raw telematics data into proactive and targeted coaching messages, support programmes and remedial campaigns, all delivered online direct to the driver.  
For more information visit https://praiso.com/