Praiso and Teletrac Navman Join Forces To Revolutionize Their Fleet Management Solutions and Driver Behaviour Platforms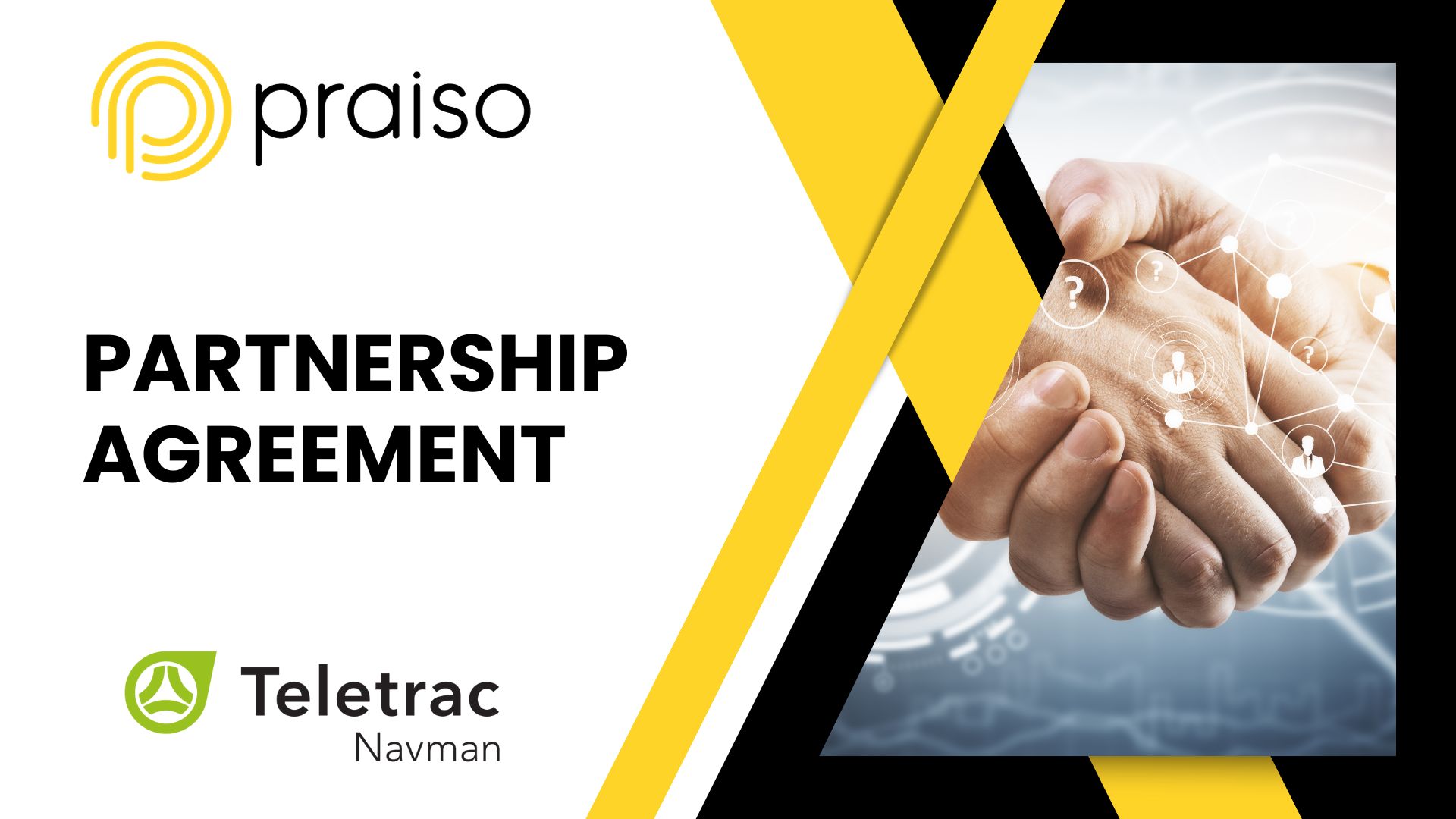 Praiso, a leading innovator in driver behaviour, coaching and training solutions, is delighted to announce its new strategic partnership with Teletrac Navman, the connected mobility platform for industries that manage vehicle and equipment assets. The collaboration represents an important step forward in fleet safety and performance optimisation.
The collaboration between Praiso and Teletrac Navman aims to combine their expertise and cutting-edge technologies to revolutionise the way businesses manage their fleets and ensure safer and more efficient driving practices.
Praiso's driver behaviour coaching and training platform is designed to provide real-time feedback to drivers, empowering them to make better decisions on the road and encouraging safer driving habits. The platform leverages advanced AI algorithms to analyse driving patterns from telemetry data and identify potential risks, proactively delivering automated targeted messages, support programmes and remedial campaigns direct to the driver, enhancing driver safety and reducing accidents. Praiso's approach is constructive and rewards-based, and uses 'gamification technology' to improve driver engagement, compliance, safety and duty of care.
Teletrac Navman offers cloud based technology and intelligent solutions that support transport and logistics businesses, fleets and construction businesses with becoming safer, streamlined and more sustainable. By integrating Praiso's driver behaviour coaching and training platform into its existing suite of offerings, Teletrac Navman aims to further elevate its safety-focused solutions and provide customers with a holistic approach to fleet management.
"We are thrilled to partner with Teletrac Navman to combine the power of our innovative driver safety platform with their industry-leading fleet management technology," said Jason Fitzgerald, Commercial Director of Praiso. "Together, we will revolutionise the way businesses approach driver safety and training, ultimately reducing risks and ensuring safer roads for everyone."
Through this collaboration, customers of Teletrac Navman will gain access to Praiso's advanced coaching tools, empowering drivers to be more accountable and aware of their performance behind the wheel. With real-time feedback and data-driven insights, fleet managers can benefit from Praiso's automated targeted training programs, monitor progress, and make data-backed decisions to optimise their fleet's performance.
"We are excited about the possibilities this partnership presents," said Barney Goffer UK Product Manager of Teletrac Navman. "By integrating Praiso's innovative platform into our fleet management solutions, we are reinforcing our commitment to providing our customers with the best-in-class safety and productivity tools, and enabling them to take their fleet operations to new heights."
The partnership between Praiso and Teletrac Navman is a significant step towards redefining the future of fleet management. As businesses worldwide face increasing challenges in managing their mobile assets efficiently, this collaboration will provide a unique and powerful solution.
For more information about Praiso and Teletrac Navman's partnership and the integrated fleet management solution, please visit https://praiso.com/news/
About Praiso:
Praiso is a leading driver behaviour coaching and training platform that empowers fleets to enhance safety and reduce accidents through real-time feedback and AI-powered insights. The platform enables businesses to create a safer driving culture while optimizing fleet performance.
About Teletrac Navman:
Teletrac Navman aims to be the driving force behind the industries that transform and sustain our futures by offering simple and intelligent solutions that enhance efficiency, safety, and sustainability. As a connected mobility platform for industries that manage vehicle and equipment assets, Teletrac Navman simplifies the complex so that its customers can transform the way they work through cloud-based solutions that leverage AI to unlock the power of operational insight. Teletrac Navman manages more than 700,000 vehicles and assets around the world. The company operates globally, with offices worldwide and headquarters in Orange County, CA.
Teletrac Navman is part of Vontier, a global industrial technology company uniting critical mobility and multi-energy technologies and solutions to meet the needs of a rapidly evolving, more connected mobility ecosystem. For more information visit www.TeletracNavman.com.

Note to Editors
About Praiso
Designed for vehicle fleets, insurers, vehicle leasing companies, telematics service providers and OEMs, Praiso's revolutionary software platform transforms raw telematics data into proactive and targeted coaching messages, support programmes and remedial campaigns, all delivered online direct to the driver. Praiso's name is an anagram derived from high praise, AI and software.
For more information visit https://praiso.com/